Queer and Trans Migrations: Dynamics of Illegalization, Detention, and Deportation (Dissident Feminisms) (Hardcover)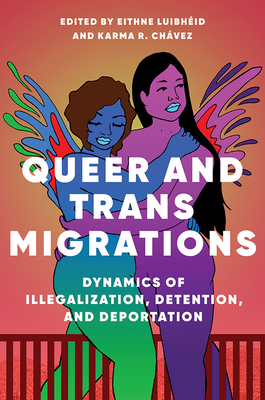 Description
---
More than a quarter of a million LGBTQ-identified migrants in the United States lack documentation and constantly risk detention and deportation. LGBTQ migrants around the world endure similarly precarious situations. Eithne Luibhéid's and Karma R. Chávez's edited collection provides a first-of-its-kind look at LGBTQ migrants and communities. The academics, activists, and artists in the volume center illegalization, detention, and deportation in national and transnational contexts, and examine how migrants and allies negotiate, resist, refuse, and critique these processes. The works contribute to the fields of gender and sexuality studies, critical race and ethnic studies, borders and migration studies, and decolonial studies.
Bridging voices and works from inside and outside of the academy, and international in scope, Queer and Trans Migrations illuminates new perspectives in the field of queer and trans migration studies.

Contributors: Andrew J. Brown, Julio Capó, Jr., Anna Carastathis, Jack Cáraves, Karma R. Chávez, Ryan Conrad, Elif, Katherine Fobear, Monisha Das Gupta, Jamila Hammami, Edward Ou Jin Lee, Leece Lee-Oliver, Eithne Luibhéid, Hana Masri, Yasmin Nair, Bamby Salcedo, Fadi Saleh, Rafael Ramirez Solórzano, José Guadalupe Herrera Soto, Myrto Tsilimpounidi, Suyapa Portillo Villeda, Sasha Wijeyeratne, Ruben Zecena
About the Author
---
Eithne Luibhéid is a professor in the Department of Gender and Women's Studies at the University of Arizona. She is the author of Pregnant on Arrival: Making the Illegal Immigrant and Entry Denied: Controlling Sexuality at the Border. Karma R. Chávez is an associate professor in the Department of Mexican American and Latina/o Studies at the University of Texas at Austin. She is the author of Queer Migration Politics: Activist Rhetoric and Coalitional Possibilities and Palestine on the Air.
Praise For…
---
"An extraordinarily important volume bringing together activists, artists, and academics, Queer and Trans Migrations models the wide range of approaches that can help us understand and challenge the heteronormative frameworks, settler-colonialist politics, and racialized logics affecting migration, detention, and deportation."--Erica Rand, author of The Ellis Island Snow Globe