Under the Eagle: A Tale of Military Adventure and Reckless Heroism with the Roman Legions (Eagle Series #1) (Paperback)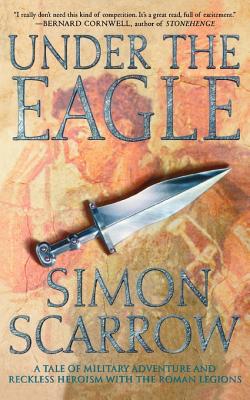 $18.99

Usually Ships in 1-5 Days
(This book cannot be returned.) Please be sure you would like this title.
Other Books in Series
This is book number 1 in the Eagle Series series.
Description
---
In this first book of a new historical fiction series, a crack Roman legion invades Britain in this brazen tale of military adventure, political intrigue and heroism

It is the year 42 AD, and Centurion Macro, battle-scarred and fearless, is in the heart of Germany with the Second Legion, the toughest in the Roman army. Cato, a new recruit and the newly appointed second-in-command to Macro, will have more to prove than most. In a bloody skirmish with local tribes, Cato gets his first chance to prove that he's more than a callow, privileged youth. As their next campaign takes them to a land of unparalleled barbarity - Britain - a special mission unfolds, thrusting Cato and Macro headlong into a conspiracy that threatens to topple the Emperor himself.

Filled with the kind of historical details that brings the adventure to life, Simon Scarrow's Under the Eagle is destined to become a military fiction classic.
About the Author
---
Simon Scarrow teaches at City College in Norwich, England. He has in the past run a Roman history program, taking parties of students to a number of ruins and museums across Britain. He lives in Norfolk, England, and writes novels featuring Macro and Cato. His books include Under the Eagle and The Eagle's Conquest.
Praise For…
---
"A warmly welcome sequel looks assured." —Kirkus Reviews
"...spectacular tale of intrigue, adventure, and glory in the Roman legions ... This enthralling historical drama is distinguished by its meticulously detailed portrayal of life in the mighty Roman army." —Booklist

"The characters are so life-like they almost spring of the page.... An engrossing storyline, full of teeth-clenching battles, political machinations, treachery, honour, love, and death." -Elizabeth Chadwick, award-winning author of The Marsh King's Daughter.

"Everyone has been raving about the film Gladiator, but Cato's story is its equal in bloody cut and thrust and has the bonus of conspiracy and intrigue to give it extra flavour." -The Northern Echo (UK)

"A good, uncomplicated, rip-roaring read." -Mail on Sunday (UK)

"Historically very accurate... The story also moves along very nicely, with plenty of action, and has a pretty twisty plot. If Cornwell or Forester is your idea of good reading, give this one a try." -South Wales Argus (UK)

"A good story well written is a pleasure to read. Scarrow does this and more in his debut historical novel... Tightly paced... Fans of the historical novel... will appreciate Scarrow's detailed research." -Cambridgeshire Journal (UK)

"A gripping tale." -Warrington Guardian (UK)