Ellis Island: Coming to the Land of Liberty (Hardcover)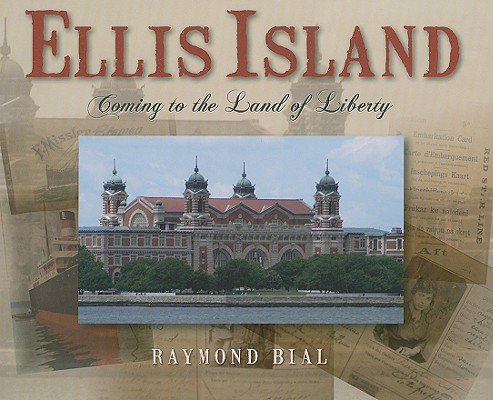 $18.00
Email or call for price
Description
---
Ellis Island, America's most famous location in its history of immigration, was once a landfill in the upper bay of New York Harbor. Since its opening on January 1, 1892, Ellis Island has come to symbolize the waves of immigrants from a list of countries that seems endless. Although there were other immigration stations along the United States' shores between 1892 and 1924, half of the newcomers to the United States came through Ellis Island. Once a popular spot with picnickers, Ellis Island was purchased by a farmer in 1794. The government reclaimed the island and Ellis Island became the foremost station in immigration services. It was enlarged to six acres, and nearly twelve million people passed through its doors until it closed in 1954.
This is the story not only of the many Americans who first came to this country through Ellis Island but of Ellis Island itself.

About the Author
---
Raymond Bial is an acclaimed photoessayist for children. Four of his books were chosen as Notable Books in the Field of Social Studies by the NCSS. He lives in Urbana, Illinois, with his wife and children.
Praise For…
---
"The generously sized period photos and Bial's museum shots tell a vivid and poignant tale for even those who cannot yet read the words. If one cannot get to the museum itself, this book is the next best thing."--School Library Journal

"With the handsome treatment readers have come to expect, Bial presents the history of the New York Harbor immigration station . . . Illustrated with the author's photographs of the current museum as well as archival images, the account is further enriched by frequent quotes from those who passed through its doors."--Kirkus Reviews

". . . plentiful historical photographs speak volumes, and Bial's contemporary shots provide a worthy guide for those who cannot visit the restored buildings and exhibits in person."--Booklist

"As Bial's appended "Children's Books" bibliography attests, there is plenty of material on Ellis Island available to young reader. Bial stakes a claim, though, to some of the most browsable, engaging photographs, which accompany his essay on the function of the island and the experiences of some of the immigrants who passed through, or were turned back, at the examination center."--Bulletin