Molly Ivins Can't Say That, Can She? (Paperback)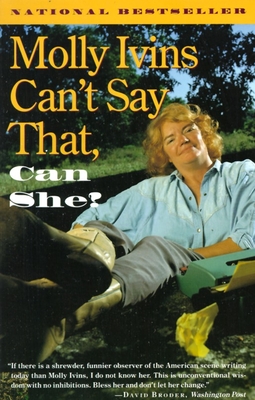 $16.00

Usually Ships in 1-5 Days
Description
---
Whether she's writing about redneck politics in her native Texas or the discreet charms of Bushwazee, Molly Ivins in never less than devastatingly honest—and hilarious.  Our toughest, funniest, and savviest columnist delivers the goods on:

-Texas politics: "Well, our attorney general is under indictment.  He ran as 'the people's lawyer'; now we call him 'the people's felon.'"

-The flag burning debate: "Bush's last birthday cake was in the form of the American flag, and he ate it—stars, stripes, and all.  Think about where that flag wound up—I call that desecration."

-Beign a woman in Texas: "There are several strains of Texas culture: They are all rotten for women... One not infrequently sees cars or trucks sporting the bumper sticker "Have fun—beat the hell out of someone you love."
About the Author
---
Molly Ivins began her career in journalism in the complaint department of the Houston Chronicle. In 1970, she became coeditor of The Texas Observer, which afforded her frequent fits of hysterical laughter while covering Texas legislature. In 1976, Ivins joined The New York Times as a political reporter. The next year, she was named Rocky Mountain Bureau Chief, chiefly because there was no one else in the bureau. In 1982, she returned once more to Texas, which may have indicated a masochistic streak, and always had plenty to write about after that. Her column was syndicated in more than three hundred newspapers, and her freelance work appeared in Esquire, The Atlantic Monthly, The New York Times Magazine, The Nation, Harper's, and other publications. Her first book, Molly Ivins Can't Say That, Can She?, spent more than a year on the New York Times bestseller list. Her books with Lou Dubose on George W. Bush—Shrub, Bushwhacked, and Who Let the Dogs In?—were national bestsellers. A three-time Pulitzer Prize finalist, she claimed that her two greatest honors were that the Minneapolis police force named its mascot pig after her and that she was once banned from the campus of Texas A&M. Molly Ivins died in 2007.
Praise For…
---
"If there is a shrewder, funnier observer of the American scene writing today that Molly Ivins, I do not know her. This is unconventional wisdom with no inhibitions.  Bless her and don't let her change."- David Broder, Washington Post

"A delight from start to finish... Molly Ivins proves that keen intelligence and a Southern accent are real good buddies... She has wise and often hilarious things to say." -The New York Times Book Review

"Wickedly funny."- Detroit Free Press

"Molly Ivins has birthed a book and it is more fun than riding a mechanical bull and almost as dangerous."- Ann Richards, governor of Texas.