The Spectators: A Novel (Hardcover)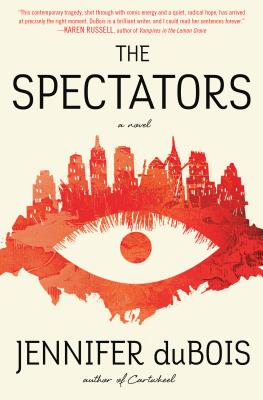 Email or call for price
Backordered, Not immediately available for purchase.
Description
---
A shocking crime triggers a media firestorm for a controversial talk show host in this provocative novel—a story of redemption, a nostalgic portrait of New York City, and a searing indictment of our culture of spectacle.

One of the The New York Times's "10 Books to Watch for in April" • "Jennifer duBois is a brilliant writer."—Karen Russell, author of Vampires in the Lemon Grove 

Talk show host Matthew Miller has made his fame by shining a spotlight on the most unlikely and bizarre secrets of society, exposing them on live television in front of millions of gawking viewers. However, the man behind The Mattie M Show remains a mystery—both to his enormous audience and to those who work alongside him every day. But when the high school students responsible for a mass shooting are found to be devoted fans, Mattie is thrust into the glare of public scrutiny, seen as the wry, detached herald of a culture going downhill and going way too far. Soon, the secrets of Mattie's past as a brilliant young politician in a crime-ridden New York City begin to push their way to the surface.

In her most daring and multidimensional novel yet, Jennifer duBois vividly portrays  the heyday of gay liberation in the seventies and the grip of the AIDS crisis in the eighties, alongside a backstage view of nineties television in an age of moral panic. DuBois explores an enigmatic man's downfall through the perspectives of two spectators—Cel, Mattie's skeptical publicist, and Semi, the disillusioned lover from his past. 

With wit, heart, and crackling intelligence, The Spectators examines the human capacity for reinvention—and forces us to ask ourselves what we choose to look at, and why.

Praise for The Spectators

With The Spectators, duBois is staking out larger literary territory. The new novel is full of small pleasures that accumulate as proof that this writer knows her stuff. . . . DuBois's mastery of . . . details earns our trust as she expands The Spectators into a billowing meditation on the responsibility of public figures to contribute something worthwhile to the culture. Although her book takes place decades ago, duBois's message has a contemporary urgency as well."—The New York Times

"Heart-rending and visceral . . . DuBois's language is dexterous, and her pacing impressive. . . . The Spectators is a treatise on the media's power and a finely wrought example of intimate pain."—USA Today
About the Author
---
Jennifer duBois is the author of A Partial History of Lost Causes, a finalist for the PEN/Hemingway Award for Debut Fiction. The National Book Foundation named her one of its 5 Under 35 authors. Her second novel, Cartwheel, was a finalist for the New York Public Library's Young Lions Award. An alumna of the Iowa Writers' Workshop and Stanford University's Stegner Fellowship program, duBois is the recipient of a Whiting Award and a National Endowment for the Arts Creative Writing grant. She teaches in the MFA program at Texas State University.
Praise For…
---
"In addition to being a well-spun epic, The Spectators is an examination of the spectacle-driven culture we're all part of."—Refinery29

"The Spectators is yet another triumph in an impressive oeuvre: a brave and painfully vivid excavation of the AIDS crisis in New York that, with its fine prose, breathes life back into an era of death."—Karan Mahajan, author of the National Book Award finalist The Association of Small Bombs

"The Spectators, the third novel by the well-regarded author Jennifer duBois, often thrums with vibrancy and echoes divisive current events as it covers a timeline from the late 1960s to the early 1990s. It also gains momentum when the plot takes a sudden, sinister twist—a threat of blackmail, a shooter's potentially explosive letter, a secret taping. . . . A searingly felt remembrance."—Associated Press

"Covering three decades of American culture, including the nineties pop culture wars and the AIDS crisis of the eighties to the liberated seventies, this may be duBois's most ambitious work yet."—Lit Hub, "Most Anticipated Books of 2019"

"Elegant, enigmatic, and haunting."—Kirkus Reviews (starred review)

"The Spectators is a beautifully written, even aphoristic novel, but its greatest strength is its characterization. . . . Brilliantly conceived and . . . utterly unforgettable."—Booklist (starred review)

"A Whiting Award winner and PEN/Hemingway nominee, duBois writes an especially timely novel exploring the power of the media to foment chaos and the culpability of the public that validates the discord by watching."—Library Journal

"A powerful novel . . . DuBois spans some thirty years of New York City history, moving between the queer gestalt of the 1970s and the television-junkie culture of the 1990s."—Publishers Weekly

"A Whiting Award winner and PEN/Hemingway nominee, duBois writes an especially timely novel exploring the power of the media to foment chaos and the culpability of the public that validates the discord by watching."—Library Journal

"The Spectators is magnificent, a richly textured epic suffused in heartbreak yet spring-loaded with vitality. Jennifer duBois is among the finest writers of our generation and this is her most accomplished novel."—Anthony Marra, author of The Tsar of Love and Techno

"Another breathtaking novel from one of our most brilliant writers . . . No one writes about the contradictions of American society and the foibles of the human heart with such incisive wit and sensitivity. The Spectators is a tense and propulsive exploration of how easily we can let our best intentions slip away. As secrets are uncovered, Jennifer duBois reminds us that to truly see, without apology or artifice, is itself an act of compassion. This novel pulses with intelligence and heart."—Kirstin Valdez Quade, author of Night at the Fiestas