Home Front Girl: A Diary of Love, Literature, and Growing Up in Wartime America (Paperback)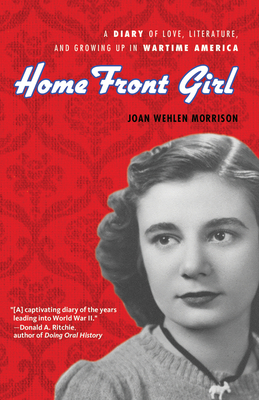 $12.99
Not available, maybe be backordered or out of print
Description
---
A primary account of teenage life in the Great Depression and prewar era retrieved from history
 Wednesday, December 10, 1941:
"Hitler speaks to Reichstag tomorrow. We just heard the first casualty lists over the radio. . . . Lots of boys from Michigan and Illinois. Oh my God! . . . Life goes on though. We read our books in the library and eat lunch, bridge, etc. Phy. Sci. and Calculus. Darn Descartes. Reading Walt Whitman now."
This diary of a smart, astute, and funny teenager provides a fascinating record of what an everyday American girl felt and thought during the Depression and the lead-up to World War II. Young Chicagoan Joan Wehlen describes her daily life growing up in the city and ruminates about the impending war, daily headlines, and major touchstones of the era—FDR's radio addresses, the Lindbergh kidnapping, Goodbye Mr. Chips and Citizen Kane, Churchill and Hitler, war work and Red Cross meetings. Included are Joan's charming doodles of her latest dress or haircut reflective of the era. Home Front Girl is not only an entertaining and delightful read but an important primary source—a vivid account of a real American girl's lived experiences.
About the Author
---
Joan Wehlen Morrison was adjunct professor of history at the New School for Social Research and the coauthor and editor of American Mosaic: The Immigrant Experience in the Words of Those Who Lived It and From Camelot to Kent State: The Sixties Experience in the Words of Those Who Lived It. Susan Signe Morrison is a professor of English literature at Texas State University and the author of several books on the Middle Ages.
Praise For…
---
"An important and refreshingly engaging word painting of a far more innocent time in U.S. history. 
Home Front Girl
is all about the thrill of being young, of questioning, and dreaming . . . and how those dreams can so easily begin to shatter under the crush of impending world events. The perspective here could not be more pure. Recommended!" —Graham Salisbury, author, 
Under the Blood-Red Sun
and 
Eyes of the Emperor
"This captivating diary of the years leading into World War II provides a fresh view of the American scene, before and after the attack on Pearl Harbor."  —Donald A. Ritchie, author,
Doing Oral History
"
Home Front Girl
reveals the perceptions of a creative, brilliant, and hopeful yet
genuine
teenage girl in an uncertain and perilous era. Joan's charm, naiveté, curiosity, and philosophies (reminiscent of Anne Frank) revealed in her journals left me with the hope that such depth of thought, creativity, sweetness, and forgiveness—as well as her sense of wonder—may still be found in today's generation of young people."  —Joan Hiatt Harlow, author, 
Star in the Storm
"A Chicago teenager's journal–riveting and real–recalls an era when adolescence was a preparation for adult life."  —Richard Peck, author, 
Fair Weather
"Her sensitivity to and exuberance about events large and small is contagious, though her poetic tendencies are tempered by her doubts, intellect, sarcasm, and savvy. Witnessing Morrison mature as a woman and a writer is invigorating and memorable." —
PublishersWeekly.com
"These diaries are a treasure on a scale with Anne Frank's. They tell the remarkable story of a real girl in a momentous time in history, from a unique viewpoint full of humor, insight, and emotional highs and lows on both a personal and an international level." —BlogCritics

"A fine, insightful and sometimes moving journal composed by a wholly likable young woman—better than fiction."  —Kirkus Reviews

"[The book] provides a window into the 1940s, a time so different than today, technologically, but strikingly similar as well. . . . An excellent [way to] . . . understand what the average citizen was experiencing while war unfolded."  —VOYA