All the Houses: A Novel (Paperback)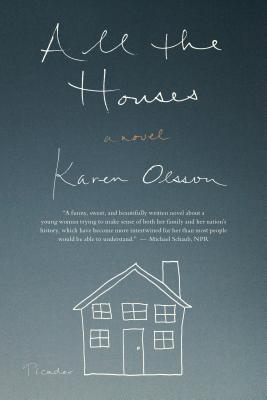 $20.00

Usually Ships in 1-5 Days
(This book cannot be returned.) Please be sure you would like this title.
Description
---
After her father's heart attack and subsequent surgery, Helen Atherton returns to her hometown of Washington, D.C., to help take care of him and, perhaps more honestly, herself. She's been living in Los Angeles, trying to work in Hollywood, slowly spiraling into a depression fueled by hours spent watching C-SPAN---her obsession with politics a holdover from a childhood interrupted by her father's involvement in the Iran-Contra scandal.

The rest of the world might have forgotten it, but the Atherton family never quite recovered. With sharp, witty, and suspenseful prose, All the Houses reveals their story, as Helen pieces together the political moves that pulled her family apart.
About the Author
---
Karen Olsson is the author of the novels Waterloo and All the Houses. She has written for The New York Times Magazine, Slate, Bookforum, and Texas Monthly, among other publications, and she is also a former editor of the Texas Observer. She graduated from Harvard University with a degree in mathematics and lives in Austin, Texas, with her family.
Praise For…
---
For readers anywhere, All the Houses offers a rich exploration of the stubborn strangeness of parents and siblings, but for Washingtonians, the book also provides the uncanny pleasure of seeing our town's mores examined with precision and sensitivity . . . With its wry humor and gentle insights into the way we draw away from one another at exactly the wrong time, All the Houses is more than just an illuminating story about the nameless victims of political scandal. It's a story about how our insecurities encourage us to smother our affections — and a reminder that we're running out of time to make amends. —Ron Charles, The Washington Post

"In [All the Houses] Olsson never overplays her hand — while there's plenty of emotional tension, she never succumbs to melodrama; every character is remarkably real . . . All the Houses isn't really about Iran-Contra; it's about a family trying to piece itself together after being broken in a public way. Olsson handles her subjects gently; she's not afraid to show her characters' flaws, but she treats them all with a real sense of sympathy. And she writes with a clear eye that's free from sentimental nostalgia, even though nostalgia is, in a way, a central subject of the book."—Michael Schaub, NPR

"Karen Olsson's All the Houses is as grand as it is intimate-an exquisite, precisely layered, and somehow almost magically suspenseful portrait of a family, a city, and a political culture that's impossible to tear away from." —Dinaw Mengestu, author of All Our Names

"A patriarch's health falters. A lost daughter returns, stepping back into the long shadow of political scandal that has eroded her family. This is the stage Karen Olsson sets in her magnificent second novel, and she explores questions of loyalty and culpability, of secrecy and identity, with delicious complexity and knife-sharp humor. All the Houses is a stunning portrait of a family forced to reckon with their public legacy and, most of all, their private selves." —Laura van den Berg, author of Find Me

"Written with wry humor, penetrating insight, and big-hearted sincerity, Karen Olsson's All the Houses is a wise, contemplative book about the stories that shape a childhood, the traumas that shape a family, and the politics that shape a nation. But it is also something much more: the extremely rare kind of novel whose characters are so true-so richly drawn, subtly nuanced, and intimately observed-that you start to feel that it isn't a book you are holding in your hands. It's a living thing." —Stefan Merrill Block, author of The Story of Forgetting and The Storm at the Door

"Politics and family may make strange bedfellows, but in the knowing and amusing novel All the Houses, Olsson makes them inseparable. Add another name alongside those writers who have so effectively made Washington a literary landscape." —Bruce Jacobs, Shelf Awareness

"In today's world of 15 minutes of fame, Olsson (Waterloo) illustrates how the public may forget history, but, nearly 20 years later, the fallout of a political disgrace continues to affect families. The strength of Olsson's novel is her subtle unveiling of a small circle of Washington fathers whose long hours working behind closed doors impact their wives, children, and themselves." —Library Journal