As you like it: The Gerald Kraak Anthology African Perspectives on Gender, Social Justice and Sexuality (Paperback)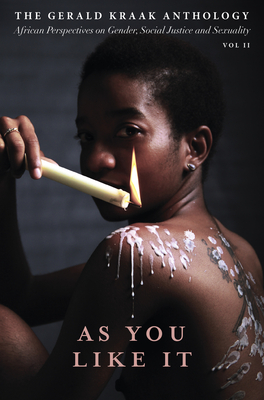 Description
---
"We are homosexuals, heterosexuals, bisexuals, transsexuals and whateversexuals, burning to rescue this continent..." —Pwaangulongii Dauod

The second offering in the Gerald Kraak annual anthology, As You Like It, is a collection of the short-listed entries submitted for the Gerald Kraak Award. This anthology offers a window into deeply located visions and voices across Africa. It brings together stories of self-expression, identity, sexuality, and agency, all located within Africa and its legacy.
About the Author
---
The Gerald Kraak Award showcases some of the most provocative works of fiction, poetry, journalism, photography, and academic writing by allies of the LGBTQI+ community as fierce defenders of human rights. Curated by some of our favorite thinkers—Sisonke Msimang, Mark Gevisser, and Sylvia Tamale—this anthology is not only a celebration of emerging writers from across the continent, it also provides a space for storytellers to keep doing what they love and to turn what they love into careers.