The Umbrella Academy Boxed Set (Boxed Set)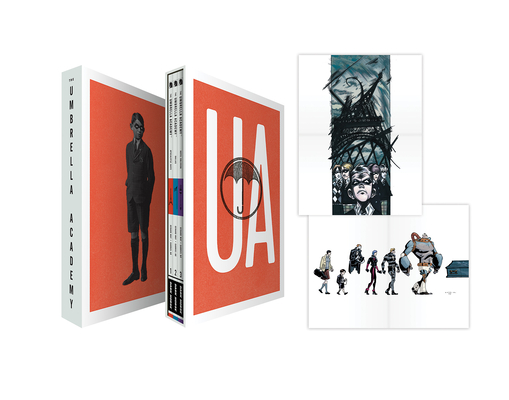 $55.97
Not available, maybe be backordered or out of print
Description
---
The New York Times bestselling comics series that was the inspiration for The Umbrella Academy on Netflix, now on Season 3!

Three magnificent New York Times bestselling Umbrella Academy graphic novels are collected in one deluxe boxed set featuring an exclusive, double-sided poster! (Note: there is one box; image shows both sides)

In an inexplicable worldwide event, forty-three extraordinary children were spontaneously born by women who'd previously shown no signs of pregnancy. Millionaire inventor Reginald Hargreeves adopted seven of the children; when asked why, his only explanation was, "To save the world." These seven children form The Umbrella Academy, a dysfunctional family of superheroes with bizarre powers. Nearly a decade after their first mission, the team disbands, but when Hargreeves unexpectedly dies, these disgruntled siblings reunite just in time to save the world once again. 
 
Collects Umbrella Academy: Apocalypse Suite, Umbrella Academy: Dallas, and Umbrella Academy: Hotel Oblivion. Also includes an exclusive Umbrella Academy double-sided poster.
About the Author
---
Gerard Way is a singer, songwriter, and comic book writer who is perhaps best known as the lead singer of the band My Chemical Romance. With My Chemical Romance, Way found fame and acclaim and toured with the band from 2001 to 2013. In addition to his music, Way is the Eisner Award-winning writer of The Umbrella Academy and The True Lives of the Fabulous Killjoys.

You can learn more about Way and his art at gerardway.com.