Wicked Enchantment: Selected Poems (Hardcover)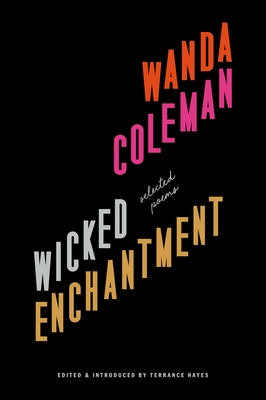 $25.95
Usually Ships in 1-5 Days
Description
---
"ONE OF THE YEAR'S BEST Fantastically entertaining and deeply engaging...potent distillations of creative rage, social critique, and subversive wit."--Washington Post.
A voice for justice, anti-racism, and equality--here is the greatest and most powerful work of the people's poet, Wanda Coleman. Coleman was a beat-up, broke, and Black woman who wrote with anger, humor, and clarity.
Wicked Enchantment: Selected Poems
is a selection of 130 of her poems, edited and introduced by Terrance Hayes. Rejected by the elites during her lifetime, here's what people are saying now: --"One of the best poetry collections of 2020."--
Washington Post
--"
Hateful and hilarious, heartbroke and hellbent
." Mary Karr,
New York Times
bestselling author --"One of the greatest poets ever to come out of L.A."
The New Yorker
--"
Her work pushes us to confront injustice with as much candor as she did
."
Poetry
--"Required Reading"
Bustle
--Winner, California Independent Bookseller Alliance 'Golden Poppy' Book Award 2020
Brutal. Hilarious. Triumphant. These are not poems written for a college class, establishment approval, or polite applause; these poems were written because Ms. Coleman had to write what she saw and felt, and she wrote brilliantly. Few if any writers, before or since, have had the courage to write with such raw honesty about the daily experience of life in this world.