Walt Disney Uncle Scrooge and Donald Duck: "Treasure Under Glass": The Don Rosa Library Vol. 3 (Hardcover)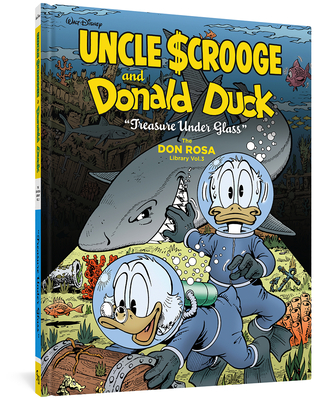 $29.99

Usually Ships in 1-5 Days
Other Books in Series
This is book number 3 in the The Don Rosa Library series.
Description
---
In the latest volume of Don Rosa's Duck stories, Uncle Scrooge and the gang have undersea adventures.
When sharks and pirates block Scrooge McDuck from the mother of all treasure maps, only noisy nephew Donald can break the impasse ... or can he? It's Fantagraphics' third complete, chronological book of Duck epics by Don Rosa—following in the footsteps of Disney legend Carl Barks with his own stunning, seaworthy style! Standout stories in this latest Scrooge and Donald volume include "Treasure Under Glass": a tale of ships, scoundrels, and the world's biggest diving bell! Then "War of the Wendigo" pits Scrooge and the Peeweegah Indians against a piggish profiteer—while in "Return to Xanadu," a quest for Kublai Khan's gold leads the Ducks back to Carl Barks' lost world of ... ah, but that would be telling! Presented with brilliant color and a treasure trove of Rosa's cover art and behind-the-scenes factoids, these Duckburg epics are getting a definitive, comprehensive North American edition for the very first time—at a bargain price worthy of Scrooge himself!
About the Author
---
First active in comics as the indie creator of Captain Kentucky and The Pertwillaby Papers, Don Rosa (b. June 29, 1951) made his jump to official Scrooge sagas with the launch of Gladstone Publishing, the watershed 1980s publisher of fan-friendly Disney comics titles. Rosa later switched to producing Duckburg comics for the pan-European publisher Egmont, leading to his capturing a remarkable international fandom. He lives near Louisville, KY.
Praise For…
---
The work itself remains essential: More than 'just' a Barks homage, Rosa carried the Good Duck Artist's legacy into legitimately new territory, exposing and massaging the pathos and wicked humor at the core of every good nostalgic exercise.
— Tim O'Neil - The A.V. Club

On the short list of comic book creators responsible for genuine
masterpieces of the medium, Don Rosa's name is pretty darn close to the
top. ... In his time on the Ducks, Rosa was responsible for over 80 stories that include some of the best comics of all time...
— Chris Sims - ComicsAlliance

In the handsome reprints of Uncle Scrooge and Donald Duck: The Don Rosa Library, ...cartooning journeyman genius Rosa displays his penchant for turning out issue after issue of globetrotting adventures… The work is more than deserving of a collection centered on the work of a funnybooks auteur…

— Aaron Ragan-Fore - Eugene Weekly