Durations: A Memoir and Personal Essays (Paperback)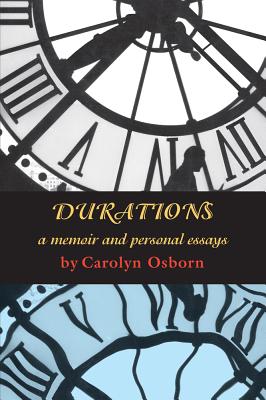 $16.95

Usually Ships in 1-5 Days
Description
---
Durations gathers a memoir and seven personal essays that explore the life of the author, from her World War II-era childhood in Tennessee to her adolescence as a small town cheerleader to life as an author, traveler and rancher.
 Like the main character in her interconnected and often autobiographical short stories, Carolyn Osborn is extremely curious about her occasionally eccentric family, yet she must continually accept the mysteries of reality—a mother, diagnosed as incurably schizohprenic, kept in a state mental hospital, next door neighbors who appear to live on almost nothing, the eternal balance of caring deeply for an unforgiving Texas Hill Country landscape while traveling from Europe to Egypt to the Galapagos.
 Aware of the need for family mythology, she often mines family history (one of her forebears may have followed Daniel Boone over the Cumberland Gap and later settled in Tennessee; his long rifle hangs in Osborn's living room) and her own distinctly Southern background that witnesses a fading 19th-century morality, readily accepts individual eccentricity, and celebrates storytelling as a way of understanding the world.
About the Author
---
Carolyn Osborn graduated from the University of Texas at Austin with a B.J. degree in 1955, and an M.A. in 1959. She has won awards from P.E.N., the Texas Institute of Letters, and a Distinguished Prose Award from The Antioch Review (2003). Her stories have been included in The O. Henry Prize Stories (Doubleday, 1991) and Lone Star Literature (Norton, 2003), among numerous other anthologies.
Praise For…
---
"It is not easy to look back over eight decades and reflect on one's life in an insightful, informative way that might be meaningful to other people. Carolyn Osborn has done so very, very well.... Her descriptions of the social dynamics of a small Texas town going through growing pains in the post-World War II boom brought on by the development of Fort Hood are fascinating as well. As a poignant portrait of human adaptability and resilience in the face of extraordinary loss and change, "Durations" cannot but captivate the reader." —San Antonio Express-News
"
DURATIONS
, Carolyn Osborn's collection of a memoir and essays, begins in the green hills of Tennessee and ends in Texas's drought-plagued Hill Country. The author's childhood was shaken up by the multiple displacements brought on by World War II and the cataclysm of her young mother's mental illness and hospitalization, concealed from Osborn and her younger brother, who knew only that their mother was gone.
DURATIONS
is a testament to familial love and caring, to survival, and to the unexpected blooming of a good life. Osborn's wry essays on her travels and her slow love affair with ranch life round out
DURATIONS
and make it is an engrossing, satisfying, and rewarding book from one of Texas's best writers." —Laura Furman, series editor, The O. Henry Prize Stories
"When the memory of the wartime generation of mid-20th century America will be washed away by official histories, Carolyn Osborn's detailed, vivid and unforgettable remembering, will be the go-to source for the feeling of that epoch." —Andrei Codrescu, author,
The Art of Forgetting: New Poems
"Osborn shares a sometimes-lonely childhood where her aunts fill in the gaps of her motherless existence by introducing her to books, sending her to dancing lessons, and teaching her how to ride a horse. The matter-of-fact tone of the book reflects the strong character of a culture in wartime America and evokes a certain nostalgia . . . . In the end, I found myself wishing the memoir were longer and wanting to know more about Carolyn Osborn's life as a young woman in Texas. Still,
Durations
is a window to a time few can remember and a poignant portrait of the American South during World War II." —Christine Baleshta, storycirclebookreviews.org
"
Durations
is a memoir of having two mothers and being an 'Army brat' frequently on the move from one military posting to another during World War II. Meanwhile, the personal essays that form the final chapters of
Durations
also deal with family, travels and the challenges of running a ranch in Central Texas. Her engrossing new book can inspire others who struggle to compose family memoirs and keep discovering that even the simplest lives can be full of complexities. [She] skillfully keeps the book focused on how love and family can help people survive drastic changes and how good lives can rise again from the pain of what has had to be left behind." —Si Dunn,
Dallas Morning News
"It is not easy to look back over eight decades and reflect on one's life in an insightful, informative way that might be meaningful to other people. Carolyn Osborn has done so very, very well.... Her descriptions of the social dynamics of a small Texas town going through growing pains in the post-World War II boom brought on by the development of Fort Hood are fascinating as well. As a poignant portrait of human adaptability and resilience in the face of extraordinary loss and change,
Durations
cannot but captivate the reader." —Ed Conroy, 
San Antonio Express-News