Parking Lot Birding: A Fun Guide to Discovering Birds in Texas (W. L. Moody Jr. Natural History Series #60) (Paperback)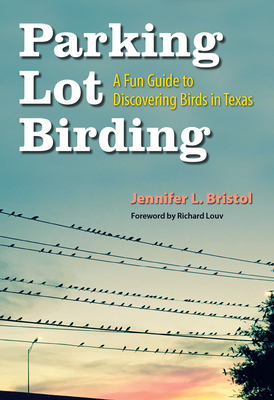 $29.95

Usually Ships in 1-5 Days
Description
---
Texas boasts greater bird diversity than almost any state, with more than six hundred species living in or passing through during spring and fall migrations. Jennifer L. Bristol's Parking Lot Birding speaks to people who would love to observe a wide variety of birds in easy access locations that don't require arduous hikes or a degree in ornithology. As she explains, "I have personally trudged down hundreds of miles of trails in Texas, loaded down with gear, searching for birds, only to return to the parking lot to find what I was looking for."
Drawing on her experience as a former park ranger and lifelong nature enthusiast, Bristol explores ninety birding locations that are open to the public and accessible regardless of ability or mobility. Divided by geography, with each of the nine sections centered on a large urban area or defined ecoregion, Parking Lot Birding: A Fun Guide to Discovering Birds in Texas will take readers to birds in locales from the busy heart of Dallas to the remote Muleshoe Wildlife Refuge in the plains north of Lubbock. Each birding stop includes the name and address of a specific birding location, number of species that have been recorded, and types of birding amenities offered. Locational accounts end with a "Feather Fact" that provides interesting and relevant details about selected birds in a particular region.
You never know what you might see when on the beaten path, especially in a state as big and ecologically diverse as Texas. So grab your binoculars and let's go birding!
About the Author
---
JENNIFER L. BRISTOL is the former director of Texas Children in Nature program of the Texas Parks and Wildlife Department. The 2018 and 2019 recipient of the Most Valuable Birder Award in the Great Texas Birding Classic, she has contributed articles to Texas Parks and Wildlife Magazine and other publications. A former park ranger, business owner, and marketing executive, she also has served on the advisory boards for the Texas Wildlife Association and Travis Audubon. She resides in Austin.
Praise For…
---
"If you are new to birding, or to birding in Texas, Parking Lot Birding offers a terrific road map for enjoying some of the state's most abundant and accessible avian hotspots. Novice and expert birders alike will find it a quick and delightful read and resource."—Carter Smith, executive director, Texas Parks and Wildlife Department
— Carter Smith

"From the deserts of the Big Bend to the swamps of the Big Thicket, Jennifer Bristol's engaging new guide, Parking Lot Birding, represents a priceless resource for beginning birders and experts alike. Bristol surveyed dozens of state parks, settling ponds, and urban oases to help birdbrained travelers find their feathered friends."—Dan Oko, writer-at-large, Texas Monthly, Audubon, Texas Parks and Wildlife, and more
— Dan Oko

"Whether you fall in the category of a casual birder, devoted birder, or birder in-between, Parking Lot Birding is a refreshing and easy-to-read guide. So, wherever you are, take it from Bristol's guide and skip the frustration. The bird you're looking for is probably in the parking lot."—Birding
— Birding