El libro de los anhelos / The Book of Longings (Paperback)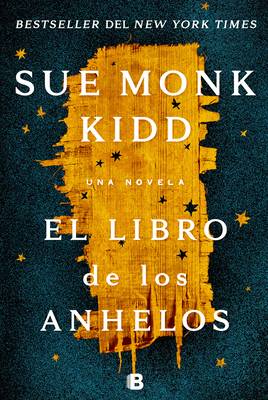 $22.95

Usually Ships in 1-5 Days
Description
---
La autora best seller Sue Monk-Kidd nos traslada a la Judea del siglo I y nos relata la Historia que ya conocemos con la voz de Ana, la mujer de Jesús.

«Me llamo Ana y fui la esposa de Jesús, hijo de José de Nazaret.» Ana es una joven de una familia judía acomodada con inquietudes y sueños.

Su vida cambia cuando conoce a Jesús, un joven rebelde que se opone pacíficamente a la dominación de Roma, que no hace milagros pero sí ayuda a pobres y prostitutas y que se convierte en líder casi a su pesar. Pero lo que se cuenta aquí no se la historia que ya conocemos sino la de las mujeres en una época en la que la inteligencia, el ingenio y la inquietud, eran propiedad de los hombres.

Una reivindicación feminista en una novela en la que la riqueza de detalles históricos y la ambientación magistral llevan al lector hasta un paisaje mil veces explorado pero que aparece totalmente nuevo.

ENGLISH DESCRIPTION

"An epic masterpiece that is a triumph of insight and storytelling." --Associated Press 

Named a Most Anticipated Book of 2020 by O, the Oprah Magazine, Good Morning America/ABC-TV, Good Housekeeping, Bustle, TIME, Marie Claireand The Millions

An extraordinary story set in the first century about a woman who finds her voice and her destiny, from the celebrated number one New York Times bestselling author of The Secret Life of Bees and The Invention of Wings

In her mesmerizing fourth work of fiction, Sue Monk Kidd takes an audacious approach to history and brings her acclaimed narrative gifts to imagine the story of a young woman named Ana. Raised in a wealthy family with ties to the ruler of Galilee, she is rebellious and ambitious, with a brilliant mind and a daring spirit. She engages in furtive scholarly pursuits and writes narratives about neglected and silenced women. Ana is expected to marry an older widower, a prospect that horrifies her. An encounter with eighteen-year-old Jesus changes everything.Their marriage evolves with love and conflict, humor and pathos in Nazareth, where Ana makes a home with Jesus, his brothers, and their mother, Mary. Ana's pent-up longings intensify amid the turbulent resistance to Rome's occupation of Israel, partially led by her brother, Judas.

She is sustained by her fearless aunt Yaltha, who harbors a compelling secret. When Ana commits a brazen act that puts her in peril, she flees to Alexandria, where startling revelations and greater dangers unfold, and she finds refuge in unexpected surroundings. Ana determines her fate during a stunning convergence of events considered among the most impactful in human history. Grounded in meticulous research and written with a reverential approach to Jesus's life that focuses on his humanity, The Book of Longings is an inspiring, unforgettable account of one woman's bold struggle to realize the passion and potential inside her, while living in a time, place and culture devised to silence her. It is a triumph of storytelling both timely and timeless, from a masterful writer at the height of her powers.
About the Author
---
SUE MONK KIDD es la autora deLa vida secreta de las abejas, novela que estuvo cien semanas en las listas de The New York Times, vendió más de seis millones de ejemplares en Estados Unidos y se tradujo a 36 idiomas. Esta es su tercera novela.