The Lie And How We Told It (Hardcover)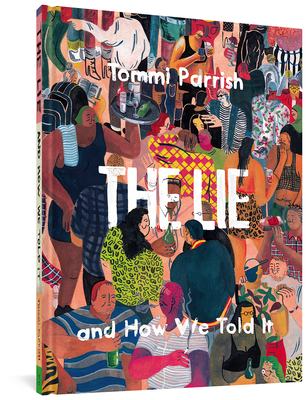 Description
---
A friendship fumbles and falls apart after an uncertain encounter in this graphic novel from a remarkable new voice.
Parrish's emotionally loaded, painted graphic novel is is a visual tour de force, always in the service of the author's themes: navigating queer desire, masculinity, fear, and the ever-in-flux state of friendships. 
About the Author
---
Tommi Parrish is an Australian cartoonist and art editor of the literary journal The Lifted Brow. Parrish's work has been shown in New York, Argentina, and across Australia They live in Montreal.
Praise For…
---
The Lie takes on material that's small in scope and thoroughly familiar: emotions we've all felt before. On the other hand, it's got the chutzpah to try and make us experience those feelings in a whole new way.


A haunting little graphic novella... Parrish's tactile paintwork conjures humans with hulking bodies and baseball heads, all of them wondering whether the messes they're in are the result of mistakes they've made or some kind of perverse destiny they were always bound for.

Tommi Parrish's excellent new graphic novel relentlessly interrogates issues of gender and sexuality, pointing out that strict binaries are mostly jerry-built and easily broken.

With each hand-painted panel, author Tommi Parrish communicates an intense atmosphere and delves thoughtfully into the themes of queer desire, masculinity, fear, and the fading of past relationships.

The Lie and How We Told It is one of the best graphic novels I've read in the past two years. ... To see Parrish's work culminate in such a magnificent graphic novel is both satisfying and invigorating.


The Lie And How We Told It is a bold and confident statement of artistic intent that has elevated Parrish into the top tier of contemporary cartoonists.


Tommi Parrish managed to work some kind of magic in this book. ... It's genuinely been a while since characters felt so real to me.