Super-Women: Superhero Therapy for Women Battling Anxiety, Depression, and Trauma (Paperback)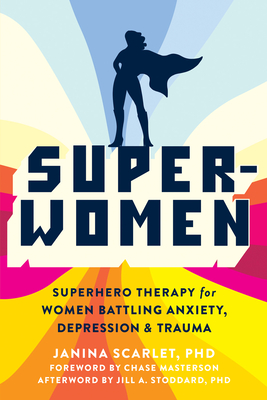 $18.95

Usually Ships in 1-5 Days
Description
---
Discover your own superpowers, and be the hero you were meant to be
Do you suffer from depression, anxiety, or trauma? Have you experienced sexism, marginalization, or even sexual assault? If so, each day can feel like a battle. But you do have the strength within you to rise above life's challenges. Using a unique blend of acceptance and commitment therapy (ACT) and "superhero therapy," this one-of-a-kind guide will help you get started.
In Super-Women, you'll find tools to help you explore and process painful experiences, accept difficult thoughts and feelings, and use mindfulness and self-compassion to tap into your own unique superpowers. Alongside seven other heroic women, you'll learn how to re-write your "origin story" and find compassionate tips and strategies to help you define your own heroic purpose.
Joining you will be notable women from all around the world, who've submitted their stories and words of encouragement. These women include writers, such as Anne Wheaton, Felicia Day, and Jane Espenson; actors such as Chase Masterson and Ruth Connell; and comedians, activists, and other women who like you understand first-hand how difficult--yet empowering--it can be to be female in a patriarchal society.
So, if you're ready to rise from the ashes and join the leagues of super-women everywhere, read this book. You may discover powers you never even knew you had
About the Author
---
Janina Scarlet, PhD, is a licensed clinical psychologist, an award-winning author, and a full-time geek. A Ukrainian-born refugee, she survived Chernobyl radiation and persecution. Scarlet immigrated to the United States at the age of twelve with her family; and later, inspired by the X-Men, developed Superhero Therapy to help patients with anxiety, depression, and post-traumatic stress disorder (PTSD). She has been awarded the United Nations Association Eleanor Roosevelt Human Rights Award for her book, Superhero Therapy. Her other books include Harry Potter Therapy; Therapy Quest; and Dark Agents, Book One. ; Foreword writer Chase Masterson is a guest star on The CW Network's The Flash, which won the E! People's Choice Award for "Favorite New TV Drama." Her upcoming and recent feature film work includes Robotech, The Search for Simon, Yesterday Was a Lie, The Inspector Chronicles, and R.U.R. Afterword writer Jill A. Stoddard, PhD, is a clinical psychologist and the director of The Center for Stress and Anxiety Management in San Diego, CA. She is an award-winning teacher, recognized acceptance and commitment therapy (ACT) trainer, and coauthor of The Big Book of ACT Metaphors.