The Night (Hardcover)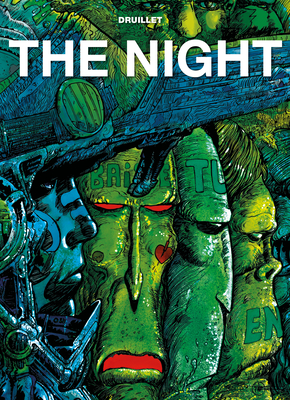 $24.99
Not available, maybe be backordered or out of print
Description
---
Comics master Philippe Druillet muses on death in this psychedelic tale of drug-addled biker gangs battling it out at the end of the world.

In 1975 Philippe Druillet lost his wife Nicole to cancer. He exorcized the demons her death left behind in The Night, a nihilistic story about the inevitable ending that none of us can avoid. Set in a desolate, post-apocalyptic world, The Night follows gangs of dope-addicted bikers on a collision course for a bloody battle for the ultimate "shoot". Desperate, dark, explosive, and violent - The Night is a baroque classic from the master himself.
About the Author
---
Philippe Druillet is a comics artist and writer, known for his innovative approach to visual design. Since the start of his career in 1966, Druillet has won multiple awards, including the European Sci-Fi award for comics in 1972, The Grand Prize for a Science Fiction Franchise in 1976, in 1990 he was inducted into the European Science Fiction Society Hall of Fame for his artistry, and in 1996 he won the National Art and Graphics Grand Prize. In the US, he's best known for his graphic adaptation of Michael Moorcock's hit fantasy series, Elric, the Return to Melnibone, and his work for Heavy Metal, such as City of Flowers.
Praise For…
---
"A compendium of superbly crafted and distinctively complex images punctuated by a kind of brutal and futuristic slang expressions, "The Night" is one of those amazing and unique stories that will be read again and again and again." - Midwest Book Review

"A darkly flamboyant apocalyptic comic that left me speechless and gawking" - Bleeding Cool

"Page after page still looks amazing forty years after the original publication ... Druillet's wild figures and vivid colour dissolve into insanely detailed scenes of slaughter, and for all the greater coherence about his better known science fiction comics, there's a case to be made for the visceral howl of The Night being Druillet's best work" - The Slings And Arrows