Blade Runner 2019: Vol. 1: Los Angeles (Paperback)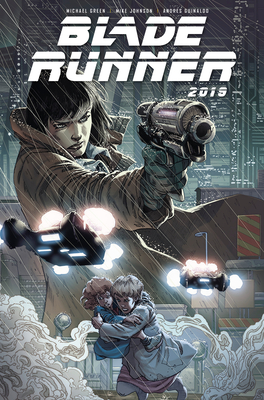 $17.99

Usually Ships in 1-5 Days
Description
---
Winner of the 2020 SCRIBE AWARD for best Graphic Novel, this critically acclaimed graphic novel, is the official sequel to the cult classic 1982 science fiction film directed by Ridley Scott. Co-written by Michael Green, the Academy Award nominated screenwriter of Logan, Blade Runner 2049, and Murder on the Orient Express.

Return to the original rain-soaked dystopic world of Los Angeles, 2019. A hardboiled future noir world of renegade Replicants, deadly femme fatales, Spinners and bloody, violent death!

There's a new Blade Runner in town, and she's out for blood. Replicant blood.
When a rich industrialist's wife and young daughter go missing, seemingly the victims of a Replicant kidnapping, Blade Runner Ash is called in to rescue them before they end up on a slab or worse. As Ash's investigation deepens she uncovers a shocking secret that could very well end up costing her her life.
About the Author
---
Michael Green is a New York American writer and producer. Green has written for TV and several feature film screenplays, including Logan, Alien: Covenant, Blade Runner 2049 and Murder on the Orient Express, all in 2017. Logan, co-written with James Mangold and Scott Frank, was nominated for an Academy Award for Best Adapted Screenplay. He is also the co-author of several graphic novels including Batman: Lovers and Madmen, Super-Man/Batman and Supergirl with Mike Johnson.
Mike Johnson is a prolific comic book writer with credits writing Titans, Superman, Batman, Star Trek: Nero and Star Trek: The Official Motion Picture. He is the ongoing writer of the IDW Star Trek series, and comic book tie-ins to Fringe and Transformers.

Andres Guinaldo is a versatile Spainish penciller, artist, cover and backup artist. He has over 185 credits to his name and has worked for Marvel and DC comics including Green Lantern, Justice League, Suicide Squad, Captain America and The Incredible Hulk.
Praise For…
---
"Pretty perfect" -Chicago Tribune

"[A] slick prequel comic ... the high-tech noir style, filled with carefully rendered cityscapes and machinery, fits the material like a glove ... a well-made tribute" - Publisher's Weekly

"Captures the tone of the source material while thrillingly expanding the scope of the larger world only hinted at in the films, resulting in the rare licensed title that feels essential instead of perfunctory" - Library Journal

"A compelling tale that links to the film without being slavish to it ... The dialogue is terse and hard-boiled, the action sparse and well-executed. Andres Guinaldo's terrific art fully captures the look and spirit of the films ... a terrific tale and hopefully the first of many" - SFX

"Blade Runner fans will find plenty to nourish them with this new chapter in their favourite dystopian future, written and illustrated by those who have a healthy respect and love of what's gone before, but also willing to the take the story in new directions. That's the spirit! 10/10" - ScFi Bulletin

"It's what Blade Runner fans have been waiting for ... Green and Johnson have written a perfect first chapter ... A fantastic comic to expand the world of the films ... a must-read for anyone who enjoys police procedurals. Titan Comics put their best foot forward representing this universe with this series. 5/5" - The Borg

"Expand[s] the world that fans love" - Gaming Trend

"Plenty here to excite fans of the franchise, with many twists and turns along the way" - Starburst Magazine

"The beginnings of a masterpiece. An absolute must-have for Blade Runner and Cyberpunk fans alike. 5/5" - Big Comic Page

"Hits all the right notes, from nostalgia to pacing to the new, foreboding angle, and the latest brooding protagonist" - Tor.com

"Hits the ground running in what looks to be a must-read new entry in the franchise" - Adventures in Poor Taste

"Everything I could have wanted in a Blade Runner story. It's new, it's original, but you know the terrain. I love it" - Bleeding Cool

"Offering another rich window into this world rife with story potential Blade Runner 2019 #1 is the best possible scenario when it comes to a new "expanded universe" connected to an iconic film franchise" - Newsarama

"It's sparing, it's beautiful… makes the comic feel like a classic noir tale" - Perfect Organism

"A blend of hardboiled noir and grungy sci-fi that means 2019 instantly feels at home in the Blade Runner canon. It's an engaging tale, with much mystery set up and a thrilling cliffhanger that'll leave you eagerly awaiting the next issue" - Starburst Magazine

"A fantastic comic to expand the world of the films … 5/5" - But Why Tho

"Intriguing storytelling combines with an excellent look into a familiar world to tell a new tale in the Blade Runner franchise" - Multiversity Comics

"Captur[es] the Blade Runner mythos while planting the seeds to a story that could be as riveting as its start" - Hulking Reviewer

"Guinaldo's pencils evoke the film's angles and lighting with a hectic grit" - Rogues Portal

"Nails the sci-fi noir tone of the films but doesn't feel like its retreading familiar ground … likely to hooks fans and have them coming back for more" - ComicBook.com

"Truly felt like an extension of the film … 5/5" - Nerdly

"Their atmospheric-noir script respectfully honours Blade Runner's past while crafting enough intrigue about its new investigative story" - Set The Tape

"Appropriately encapsulates the tone of characters, friendships and relationships ... [the] presentation is incredible from the front cover onwards" - Zombie Chimp

"The artwork looks like it could have been pulled from the film's concept art" - SciFi 4 Me

"Titan Comics hugely impressive extension of the cinematic world really hits the ground running" - Flickering Myth

"A taut, film noir-esque thriller ... a great read and worthy successor and addition to the Blade Runner mythos" - Forces of Geek

"A sophisticated bit of Christian Ward brilliance, delicately rendered with porcelain grace and dizzying ability." - Doomrocket

"A perfect balance of futuristic punk and noir ... Cutting dialogue intensifies mood and character-building ... Blade Runner 2019 is what a great comic should be" - Aurealis 

"The story & plot development is strong, smooth and utterly daring" - Reading With A Flight Ring

"A near-perfect synthesis of what works best in both Blade Runner films ... 'Blade Runner' fans need to seek this one out, while the uninitiated will still find it to be a challenging and immersive detective story" - Adventures in Poor Taste

"Guinaldo's art captures the series' dystopian cityscape and lived-in interiors to a T, while Marco Lesko's neon drenched nights and soft lighting is ever on hand to remind us that this is a retrofitted future based on a timeless movie" - Shelf Abuse

"A first rate piece of work remaining true to the original vision and something special in its own right" - Carabas

"An effortless, organic extension of the pre-established cinematic universe ... a must-read for fans of the films. The artwork is gorgeous, the writing is strong and the story – while only just getting started – shows serious potential. 9/10" - Alternative Magazine

"A wonderful science fiction story ... Nothing short of the film could have brought this world to life any better than this" - Outright Geekery

"Ash is everything you want in a Blade Runner" - DC Comics News

"[The] Quality of writing is exceptional ... Volume 1's presentation is as outstanding as the original Blade Runner film" - The Zombie Chimp

"Fantastic worldbuilding ... Pacing is perfect. Across the collection the pages turn of their own accord ... BladeRunner 2019 stands out in a way no replicant could fake" - Aurealis Magazine

"A rip-roaring thriller that channels the key themes of the films" - Grovel

"One of the best comics I've read in a while ... impressively written, with smart, edgy writing and pacing" - Adafruit