How to Communicate Like a Buddhist (Paperback)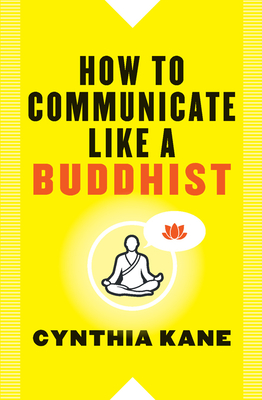 $14.95

Usually Ships in 1-5 Days
Description
---
An Instruction Manual for Clear Communication
The most well known Buddhist teachers on the planet all have something in common: they are excellent communicators. This is not by accident, as the Buddha taught what are called the four elements of right speech over 2,600 years ago.
In this one-of-a-kind book, certified meditation and mindfulness instructor Cynthia Kane has taken the four elements of right speech and developed them into a modern practice based on mindful listening, mindful speech, and mindful silence.
Beginning with an illuminating self-test to assess your current communication style, this book will take you through the author's own five-step practice that is designed to help you:

Listen to yourself (your internal and external words)
Listen to others
Speak consciously, concisely, and clearly
Regard silence as a part of speech
Meditate to enhance your communication skills
If you have ever felt misheard, have trouble stating how you feel, or long to have more meaningful and genuine conversations, this book can help. The simple steps outlined in this book will have a huge effect on how you communicate with others and yourself.
Communication is essential to being human, and when you become better at it, your personal truth becomes clearer, your relationships improve, and the result is that you experience more peace and harmony in your life.
Fans of Thich Nhat Hanh will appreciate the simple, clear instructions for how to transform everyday communication into "right speech."
This book will enhance the experience of those who love The Work of Byron Katie, the principles of the Non Violent Communication Movement, and even the popular Buddhist Bootcamp.
This book is not intended to be a comprehensive study of Buddhist thought. Instead, it offers an entry point for modern people who are tired of getting into constant stress because of ineffective communication with family members, co-workers, superiors, and other important relationships.
About the Author
---
Cynthia Kane is a certified meditation and mindfulness instructor. Her work has appeared in numerous publications, including The Washington Post, Yoga Journal, and the Huffington Post. She lives in Washington, DC, and offers workshops and private programs. Visit her at www.cynthiakane.com.
Praise For…
---
"Engaging, clear, practical, honest and wise, Cynthia Kane has done a wonderful job illuminating for us a wise path for enhancing communication and relationships in daily life. Start with the people you're most in touch with and just imagine the ripple effects."
— Elisha Goldstein, PhD,Co-founder of The Center for Mindful Living & author of Uncovering Happiness
"Well-organized, easy to digest, and overflowing with nuggets of wisdom"
— Sasha Tozzi, writer, holistic recovery coach & humanitarian at sashaptozzi.com
"Cynthia's book is well-organized, easy to digest, and overflowing with nuggets of wisdom. Communication is everything. This is a compassionate, clear, and practical guide on the subject. It behooves anyone who wants to improve their relationships to pick up this instruction manual and refer to it often, especially after a tiff with a friend/sibling/parent/lover.
I was very drawn to this book as I have always loved the very simple adage, "mean what you say and say what you mean" as well as one of the four agreements telling us to "be impeccable with your word." Kane references the wise lessons from our greats and goes deeper by outlining for us specifically HOW to say what we mean. She goes into right speech including how we listen and how we talk.
I particularly enjoyed her discussion on some of the ways our current methods of communication are not so productive, such as using the words "should, never, and always." She tells us how to be more conscious of the language we use, both in our heads and out our mouths. It's also true that all of us have our own narratives that we are attached to. Kane offers us some of her own anecdotes and asks us to be kind to ourselves when letting go of our old storylines. She talks about how communication is of utmost importance because it directly affects our relationships. Improving our communication skills, and getting conscious to our listening skills, our talking skills, and our capacity for silence within conversation will undoubtedly improve our relationship with our Self and with others. She also talks about meditation, and shows us how to incorporate it as another tool to improve our communication skills.
Kane explains everything in a relatable & precise way for us to comprehend easily. Clear communication is becoming a lost art of our time amidst a world of texting, emailing, and virtual relationships. This book is gold for anyone who wants to remember the fundamental basics of honest & compassionate communication so they can improve their marriages, friendships, etc.--and thus the quality of their entire lives."
— Sasha Tozzi, writer, holistic recovery coach & humanitarian at sashaptozzi.com