Uncertain Summer (Hardcover)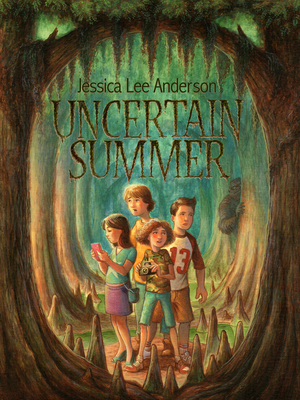 $12.95
Usually Ships in 1-5 Days
Description
---
For decades, something has lurked in the swampy lakes of East Texas. When a TV show offers a million dollars to the person that can provide conclusive proof of the creature, Everdil, her brother, and two friends form a team to snap a picture of Bigfoot. But tracking a monster, especially one nobody's been able to catch, proves trickier than Everdil expected. With each new adventure, Everdil seems to create more problems with her friends and family than she solves. In the end, she has to hope that her brave, foolish actions will ultimately make things right with everyone, including Bigfoot. This book will remind readers that hope and loyalty are traits that we all share, no matter our size.
About the Author
---
Jessica Lee Anderson is a former instructor at the Institute of Children's Literature and St. Edward's University and is a current member of The Texas Sweethearts & Scoundrels, a group of authors and illustrators who write for kids and teens. She is the author of Border Crossing, Calli, and Trudy. She lives in Austin, Texas.
Praise For…
---
"Readers with a hunger for outdoor adventure and the mysteries of cryptozoology will love joining Everdil's unstoppable team."  —Kelly Milner Halls, author, Tiger in Trouble!
"For every kid who has ever dreamed of doing something big, who has mourned friendships past, who has known with all their heart that they can make a difference...Uncertain Summer is an absolute must!"  —P.J. Hoover, author, Tut: The Story of My Immortal Life
 "One thing is certain, Uncertain Summer is an action packed adventure you don't want to miss!"  —Margie Longoria, librarian, book blogger, Margie's Must Reads