Graveneye (Paperback)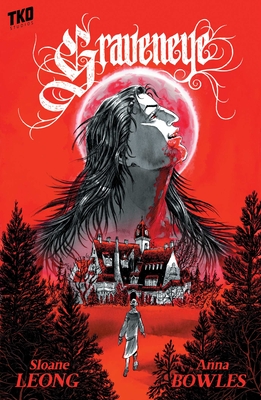 $19.99
Email or call for price
Description
---
What if a haunted house was not the horror, but the people who dwell within it. . .


Isla lives along in a large mansion deep in the woods. Her house has seen its share of blood horror, and the depths of the human soul. Isla has hired the young Marie to help her keep the big house tidy, but Marie brings demons of her own into Isla's domain. Cursed with sentience, it is destined to observe the terrors that lurk inside each and everyone of us.

Acclaimed author Sloane Leong (A MAP TO THE SUN, PRISM STALKER) and artist Anna Bowles in her debut graphic novel, deliver a dark and beautiful tale of hunger and obsession.


About the Author
---
Sloane Leong is a cartoonist, artist and writer of Hawaiian, Chinese, Mexican, Native American and European ancestries. She's written and drawn two acclaimed graphic novels, Prism Stalker and A Map to the Sun, and has short fiction in Fireside Magazine, Dark Matter Magazine and The Dread Machine. She is currently living on Chinook land near what is known as Portland, Oregon.

Anna Bowles was born in Ann Arbor, Michigan, and grew up in the outer suburbs of Detroit. Her interest in comics started with the funny pages, which her grandmother would save for her to read every weekend. In 2016 she received a BFA in Illustration from Grand Valley State University. GRAVENEYE is her first work for a major publisher. She lives in London with her husband.
Praise For…
---
"An expert blend of writing and art creates a wonderful spell to fall under."
— Garth Ennis (The Boys, Preacher)

"GRAVENEYE is a lush, blood, gothic feast. A Kaleidoscopic mix of desire, hunger and revenge. Home is where the transformed heart is."
— Paul Tremblay, multiple award-winning author of the national bestseller The Cabin at the End of the World and A Head Full of Ghosts